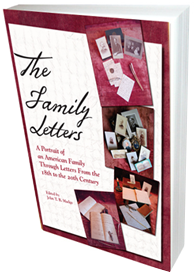 The Family Letters
A Portrait of an American
Family Though Letters
From the 18th and 20th
Century
Edited by: John T. B. Mudge
$35.00 per copy.
Shipping charge per book:
USPS Book Rate - $6.00
USPS Priority Mail or UPS - $10.00
Welcome.
The Family Letters is a collection of letters from the late 18th century, through the 19th century, and into the early 20th century that tells the story of six generations of one family. The book includes letters from the Virginia side of the family— letters from John Cropper of Accomac and his descendants, most notably Cropper's grandson, Henry A. Wise, Congressman, Governor, and General, and his children. The book includes the letters and diaries from the New York side of the family— the Whitesides, McKies, and Thayers of Cambridge and Troy, New York. The book includes letters from Valley Forge, the American Civil War, and the Spanish-American War. The book includes the letters between Henry Wise Hobson of Virginia and Colorado and his wife, Katherine Thayer Hobson of Troy and Colorado Springs, and then the letters written after Henry Hobson's death in 1898 as a young widow raised her family.
The Family Letters tells the story of an American family— their lives, education, interests, politics, travels, families, illnesses, births, deaths, friends, successes, failures, and more. As single letters they are very simple writings in which the family describes their sad and happy times, their ordinary lives, and their hopes for the future. As a collection of letters this is a much larger story— it is an American story.
The Family Letters includes illustrations, genealogical information, and a family timeline from 1621 to 2006. Most of the material is from previously unpublished collections of letters, diaries, photographs and other materials that the family has saved over the years. However, material from other sources including the Virginia Historical Society, the Valentine Richmond History Center, the Library of Virginia, the Eastern Shore (Virginia) Public Library, Duke University, Smith College, Amherst College, the National Archives, and other institutions is also used to tell this story.